NETcellent System, Inc. announces the general release of Elliott Version 8.2. We are committed to maximizing your investment in Elliott Business Software by continuing to make improvements to help your business succeed.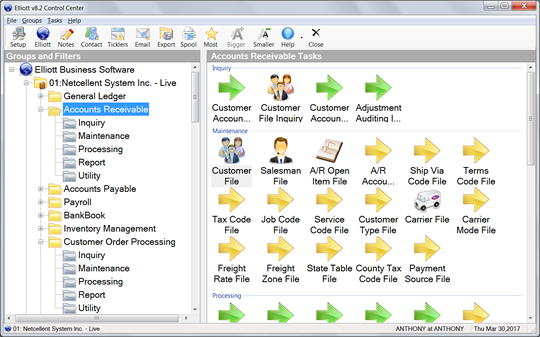 Elliott Version 8.2 retains all the rich features of previous Version 8 releases, like the enhanced graphical Elliott Control Center, improved fonts and icons, touch interface support, significantly improved printing capability, drill-down improvements, continuous notes, improved barcode scanning to support warehouse management, and better security control.

In addition, it introduces new enhancements like PDF Printing and PostOffice. Version 8.2 supports printing to PDF files natively, so you don't need to manually install third-party PDF software on each workstation. It also provides a great feature called PostOffice, which allows you to print invoices, statements, order acknowledgements, order quotes, and purchase orders to PDF format and automate the process of emailing or faxing to your customers or vendors.






The drill-down capabilities have been further enhanced in Version 8.2, which will make processing in Elliott more convenient.

To learn about all the new features in Version 8.2 and previous Elliott releases, click on the release note below:

| | |
| --- | --- |
| | |
| | |
Please be aware that Elliott Version 8.2 requires PSQL V11 or V12 to run.


Version 8.2 shares the database with Elliott 7.5. Therefore, you can run Elliott Version 8.2 side by side with the latest Elliott V7.5. This risk involved in starting to use Version 8.2 is minimal. If you would like to run Version 8.2 side by side with V7.5, simply install Version 8.2 in your existing V7.5 folder. All Version 8 programs are installed into a "bin" subfolder so none of your existing V7.5 programs will be overridden.

We encourage you to start evaluating and using Elliott Version 8.2 today. If you have any questions regarding Elliott Business Software Version 8.2 release, please contact NETcellent at 888-595-3818 or email us at